Important Note:
Please check in advance that the stand dimensions will fit in your space - it's large.
---
The XL Hangout is exceptionally large, requiring a tall hanging point, such as the 2.4m tall tripod stand included in this set. The XL hangout is sized to be able to fit adults. The XL hangout measures 150cm across, which is the same as our 150cm nest swings, which are also sized to be able to fit adults.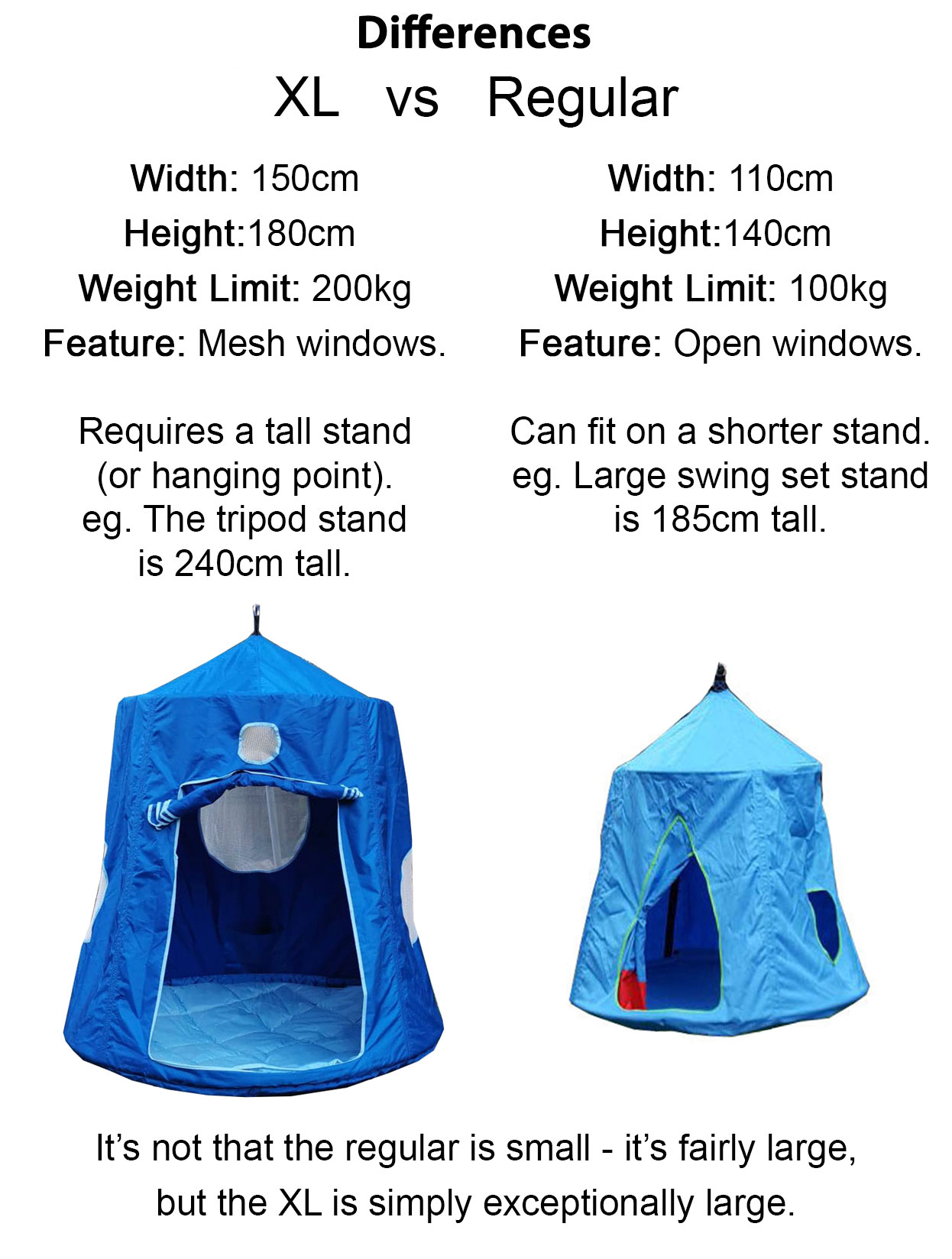 It is made from durable and weather resistant Oxford Polyester, and includes a full-width polyester pillow, making it a great play space or quiet space. The tripod stand is best suited to outdoors (grass or dirt), so this set is best suited to outdoors. The XL hangout itself can be used indoors if you have a suitably high hanging point. The hangout is best kept under cover/shade when left for prolonged periods.
It is popular for relaxing inside while reading a book or playing a game while gently swinging. It can help to soothe over-stimulation such as from autism and sensory overload.
The Stand
The footprint of the stand is 260x260x260cm, by 240cm tall. It is designed for spinning or gentle swinging. The large size means that it can fit all of our swings, and the swings can then be adjusted up and down using the chain and carabiner. It includes 3 basic pegs for fixing it down, and extra spiral pegs are optional, which can fix it down deeper and stronger.
The Swing
The XL hangout measures 180cm tall and 150cm wide at the widest point. The weight capacity of the swing is 200kg, while the capacity of the stand is 80kg when swinging, or higher if just sitting. So you follow the lower of the 2 weight limits when using them as a set. Is it 36% wider than the regular hangout, it is taller and with a larger door. The windows are also mesh covered, unlike the regular hangout, which has open windows.
The hangout and stand both come disassembled. The hangout has 10 metal pieces for the 2 inner rings, while the stand has 10 main pieces. You should have 1-2 adults available for assembly.
Note for TAS, WA, NT:
This item has a heavy item surcharge for orders to TAS, WA and NT. If this applies to you, please add the surcharge through the drop-down above the order button.