Important Note:
The hanging points have been upgraded to be mini-straps (including 3, with 1 of them having a swivel attached), but the photos have not been updated to reflect the change yet. The current hanging points will look like this: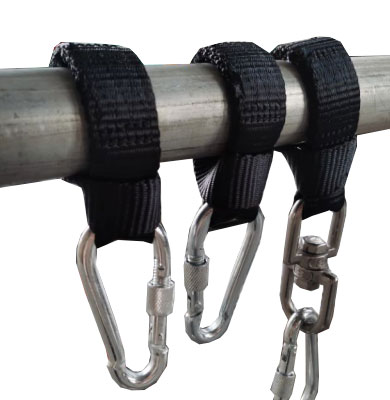 Note:
This set includes a
medium wrap swing
for smaller kids, with the medium swing set stand. To change to a large wrap, please use the above dropdowns.
The medium swing set stand is designed for smaller spaces than the large, since it is about 20% less wide. It usually holds one swing at a time, and can fit up to 100cm nest swings or pods or wrap swings.
Set includes:
1x medium swing set stand, 2x ropes & carabiners and 1x medium teal nylon wrap swing.
The wrap swing is made from nylon, which is smooth, strong, and a bit stretchy. The stand is weather resistant, so can be used indoors or outdoors. The wrap swing can be used outdoors too, though is best stored out of the sun and rain when not in use.
Hanging
You can hang the swing from 1 or 2 hanging points. Hanging from 1 point will mean the swing wraps tighter and can spin, while hanging from 2 points will be more open, and will mainly move forward and backward, rather than spin.
Size
The medium wrap is for smaller kids, approximately <140cm tall. As you can see in the photos, the wrap is capable of holding an adult and child at the same time, though an adult would find the large more comfortable.
For smaller kids (approx <140cm tall), the difference between the medium and large wraps is this: the medium has less excess material around the head and feet areas, so they will sit less deep inside, making it easier for the child to use without assistance.
The suggested age is 3+, though small children should use it under supervision, to make sure that they can get in and out safely, and preferably with a soft surface beneath.
Adjusting
You'll receive 2 large carabiners with the wrap swing. To set up the swing, you'll need to tie each end through a carabiner. Make sure to double knot it, as the smooth material could slide if only single knotted. Retie one end until you have your desired hanging length. Having the carabiners means it's easy to take down and put up without having to re-adjust or retie every time.
Accessories
The optional accessories are only offered for convenience, in case you want to have extra hanging locations in addition to the stand. The set already includes everything you need to use the stand and wrap swing.
Why is this one so popular?
The stand avoids the need for a suitable tree or installing fittings in your property.
Having a flat surface below the swing is good for safety.
It can be set up in a play room, verandah, or yard, as long as there is space.
The wrap swings are most popular with both kids with autism and occupational therapists for its soothing effect. They're really snug and comfy.
Note for TAS, WA, NT:
This item has a heavy item surcharge for orders to TAS, WA and NT. If this applies to you, please add the surcharge through the drop-down above the order button.