Important Note:
Stand not included. Since the XL Hangout is especially tall at 180cm tall, it cannot fit on all stands or hanging points, but generally requires a hanging point at least 2.1m off the ground.
Please double check that your space is suitable for the 180cm height and 150cm width, plus some leeway.
---
The XL Hangout is exceptionally large, requiring a tall hanging point, about 2.1m high or more. It is sized to be able to fit adults, measuring 150cm across, which is the same as our 150cm nest swings, which are also sized to be able to fit adults.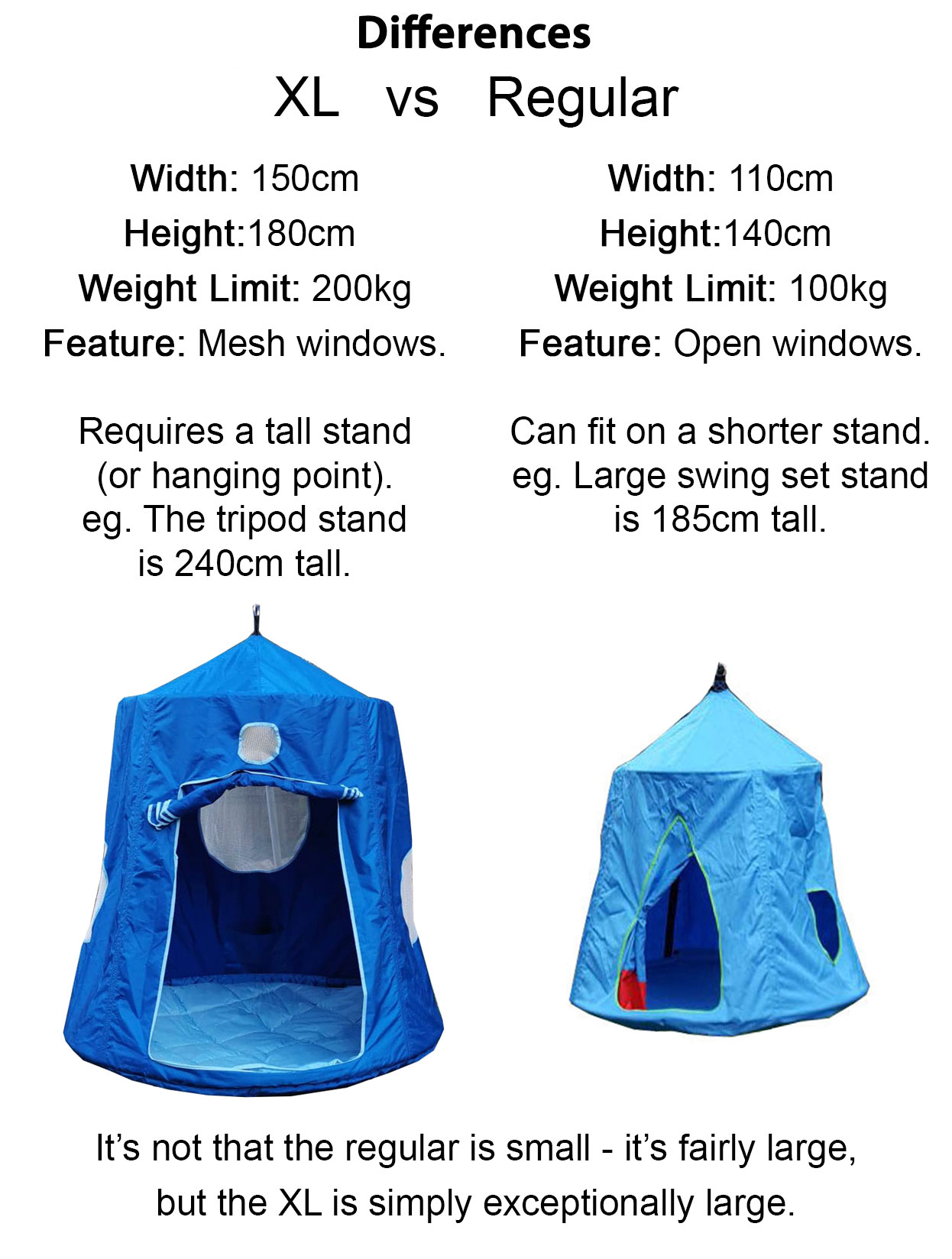 It is made from durable and weather resistant Oxford Polyester, and includes a full-width polyester pillow (pillow included by default, not an optional add-on), making it a great play space or quiet space. The XL hangout can be used indoors if you have a suitably high hanging point, or set up temporarily outdoors. It is best kept under cover/shade when left for prolonged periods (while the Oxford Polyester material is waterproof, the pillow in particular would retain moisture from rain etc).
It is popular for relaxing inside while reading a book or playing a game while gently swinging. It can help to soothe over-stimulation such as from autism and sensory overload.
The XL hangout measures 180cm tall and 150cm wide at the widest point. The weight capacity is 200kg (if used responsibly). Is it 36% wider than the regular hangout, it is taller and with a larger door. The windows are also mesh covered, unlike the regular hangout, which has open windows.
The hangout comes disassembled, having 10 metal pieces for the 2 inner rings, plus the canvas and pillow. You should have 1-2 adults available for assembly.